Mahalo mai kakou! Thanks for joining us for Medical Cannabis Day 2023.
View event video: https://youtu.be/QoZzBG09j40
---
If you haven't attended a Medical Cannabis Day event yet, this is a great time to watch. This year the event will be professionally live streamed to other websites including HawaiiWatchLive.com, Youtube.com and Facebook.com. We'll be playing host to industry and home market professionals, producers and policy makers and patients who rely on cannabis for health.
"The purpose of Medical Cannabis Day is to honor our patients and their struggle these past twenty-two years and to recognize and protect the right of patients to engage in the state authorized medical use of cannabis in Hawaiʻi."

Clifton Otto MD and Founder of Medical Cannabis Day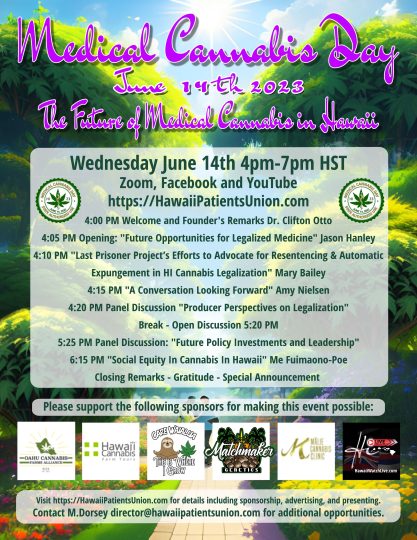 Hope to see you live during the event.